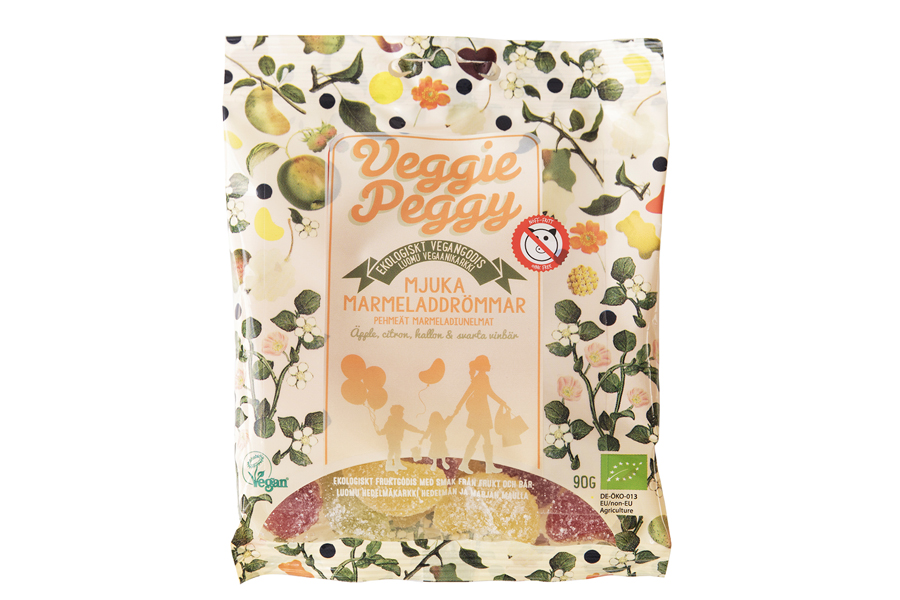 Mjuka Marmeladdrömmar
Veggie Peggy's Mjuka Marmeladdrömmar has a fruity flavor from organic fruits and berries and doesn't contain any artificial additives or colorants, it gets its natural color from organic fruits and berries. Everything from Veggie Peggy is completely free from gelatin and therefore perfect for vegans, animal friends and others that wish to eat pork free candy.
Article Number: B40101080
INGREDIENTS
Cane sugar* (unrefined), corn syrup*, fruit juice concentrates* 3,27% (lemon*, raspberry*, apple*, black currant*), gelling agent* (agar agar*), acidulant (citric acid), natural flavours, colouring fruit and plant extracts (pumpkin*, apple*, alga, safflower, elderberry*). *Organic ingredient.
PACKAGING
Consumer: 90g
Retail: 12x90g