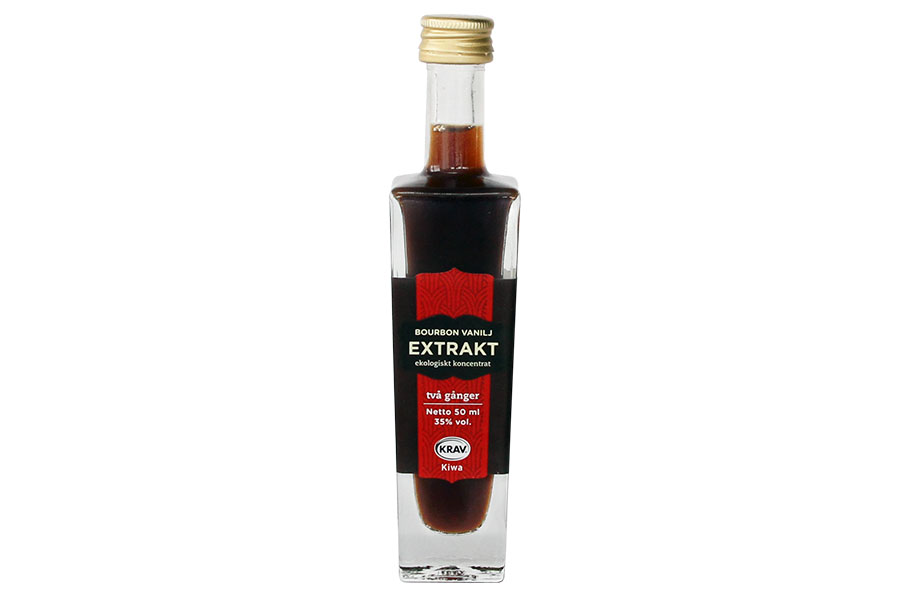 Bourbon Vanilla Extract
Our Bourbon Vanilla Extract comes in liquid form in a clever bottle! It is particularly well suited to drizzle over pancakes, ice cream or fruit salad. The vanilla grows in Madagascar, the world's largest producer of vanilla products. To cultivate vanilla requires time and a lot of care. The spice comes from the orchid plants pollinated by hand and post-harvest, the vanilla beans are left to dry for months while the flavor develops. About 200 grams of vanilla is used to create 1 liter of vanilla extract. The Bourbon vanilla taste is sweet, intense and full-bodied and usually it is categorized as the most flavorful vanilla.
Organic
KRAV labelled
No additives
Article Number: VAN027
Use
Drizzle over pancakes, ice cream or fruit salad. The flavor is very concentrated so a small amount is often enough! About ¼ – ½ teaspoon is equivalent to 1 teaspoon vanilla powder.
Keep the Bourbon Vanilla Extract in a dry place.
Ingredients
65% water, 35% organic alcohol concentrates = 200g organic Bourbon vanilla per 1 liter
Origin
Madagascar/South Africa
Packaging
Consumer: 50ml
Retail: 12 x 50 mL
Big Pack: 1l