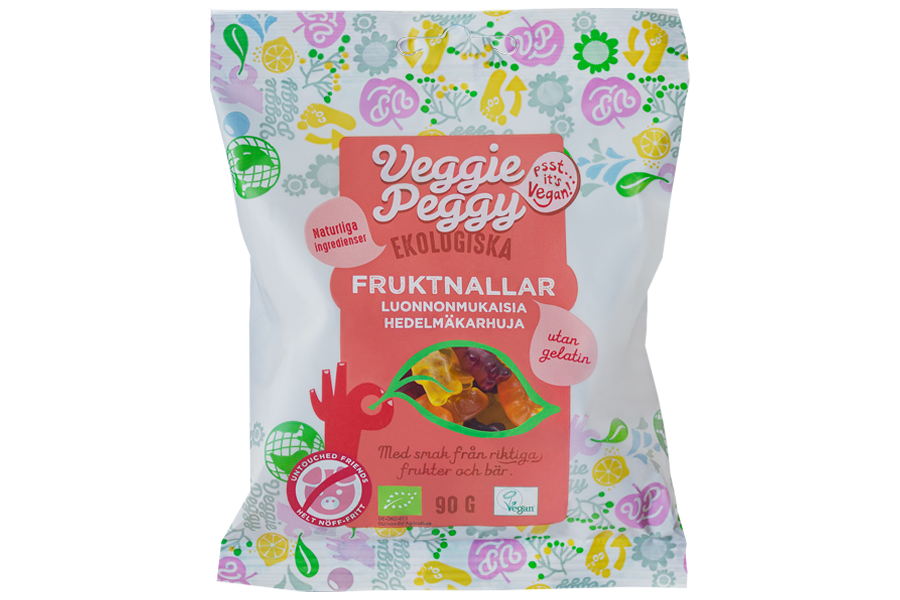 Fruit Bears
Veggie Peggy's Fruktnallar contains a fruity mix flavored with pure organic fruits and berries. Completely free from gelatin, lactose and gluten, with over 23% organic fruit juice. Everything from Veggie Peggy is completely free from gelatin and therefore perfect for vegans, animal friends and others that wish to eat pork free candy.
Article Number: B40001080
INGREDIENTS
Corn syrup*, cane sugar* (unrefined), gelling agent (pectin), fruit juice concentrates* 3,7% (apple*, orange*, lemon*, black currant*, raspberry*, pineapple*), acidulant (citric acid), acidity regulator (sodium citrate), colouring fruit and plant extracts (pumpkin*, apple*, alga, safflower, elderberry*), natural flavours, coating agents* (sunflower oil*, carnauba wax*). *Organic ingredient.
PACKAGING
Consumer: 90g
Retail: 12x90g