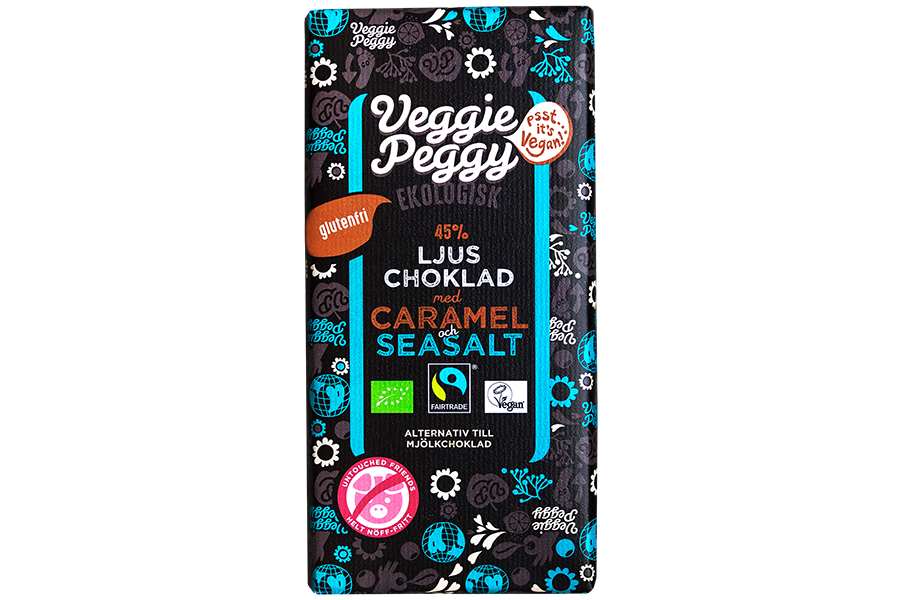 Light chocolate with Caramel & Seasalt
This yummy light vegan chocolate with a delicious taste of caramel & seasalt is for you who care about what you eat but still want it to taste good! Our chocolate is free from dairy products and is therefore a scrumptious alternative to regular milk chocolate. It is made from rice base instead of milk and suits you who are looking for a lighter flavored chocolate. Besides being vegan, it is also made from organic ingredients and also Fairtade certified. Veggie Peggy chocolate is a good choice for the environment and you!
Vegan
Organic
Gluten-free
Fairtrade certified

INGREDIENTS:
Raw cane sugar*, cocoa butter*, rice syrup*, cocoa paste*, emulsifier (sunflower lecithin*), natural vanilla aroma*, seasal (0,3%).
*Organic ingredient.

Article number: VPCKH

ORIGIN:
Belgium
PACKAGING:
Consumer: 85g
Retail store: 12x85g