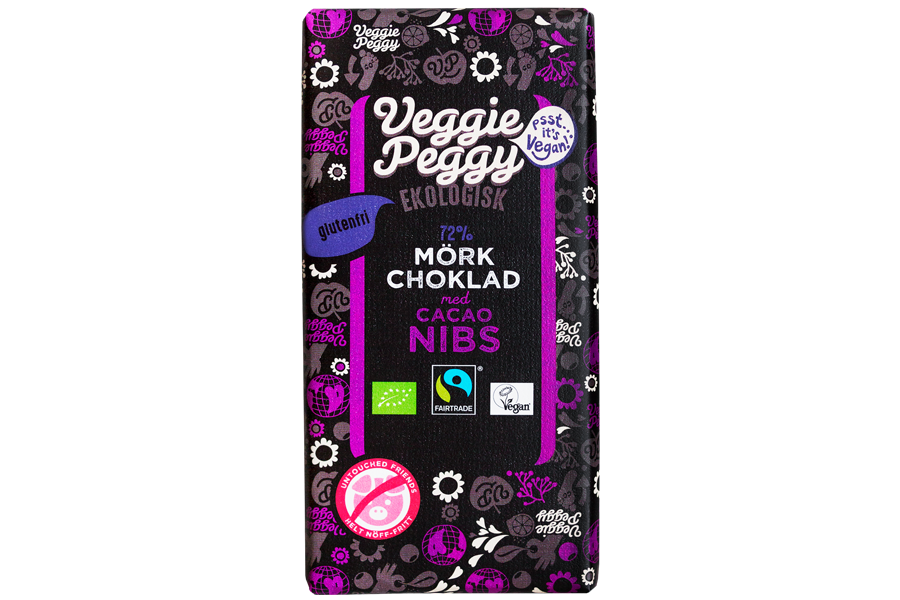 Dark chocolate med Cocoa Nibs
This yummy dark vegan chocolate with added caco nibs (crushed cocoa bean) has a rich cocoa flavor and lovely crispness. It is for you who love chocolate, care about what you eat but still want it to taste good! Our chocolate is vegan, and therefore free from dairy products. Besides being vegan, it is also made from organic ingredients and also Fairtade certified. Veggie Peggy chocolate is a good choice for the environment and you!
Vegan
Organic
Gluten-free
Lactose-free
Fairtrade certified

INGREDIENTS:
Cocoa paste*, cane sugar*, cocoa butter*, cocoa nibs* (2%), vanilla*.
*Organic ingredient.

Article number: VPCKN

ORIGIN:
Belgium
PACKAGING:
Consumer: 85g
Retail store: 12x85g