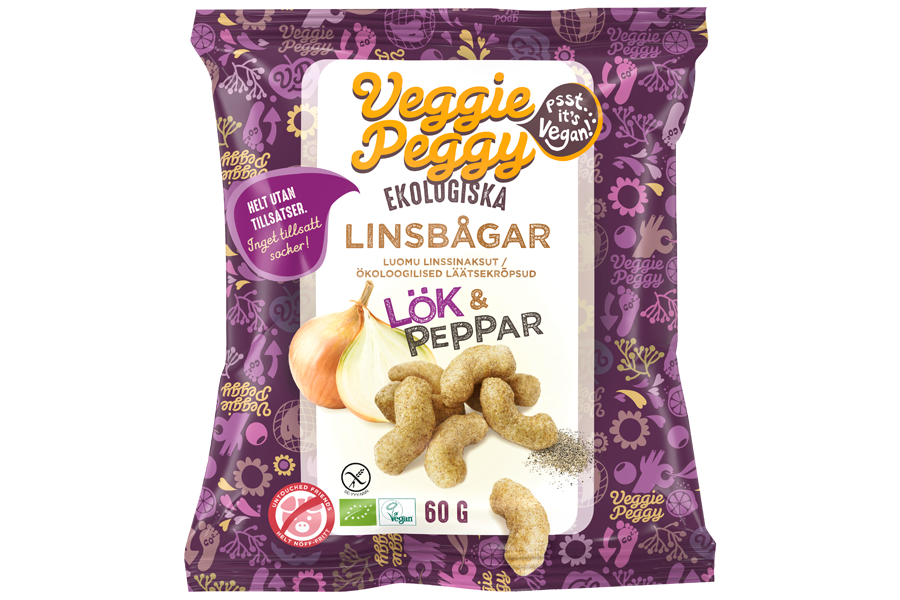 Lentil Puffs Onion & Black pepper
These crispy puffs with a wonderful taste of black pepper and onion are made of lentils and thus naturally rich in protein. The puffs also contain less fat compared to traditional cheese bows. In addition to its protein-rich base, the lentil puffs contain only natural ingredients and are therefore an excellent healthy alternative snack. They are also naturally gluten-free.
All Veggie Peggy snacks contain only naturally occurring sugars and are guaranteed to be free from additives and added sugars. Our products are also organic and Vegan Society certified.
Vegan

Organic

Gluten-free

No added sugar

No additives
Article number: VPLBPL
INGREDIENTS:
Lentils* (41%), corn groats*, sunflower oil*, onion powder* (1.6%), sea salt, ground black pepper* (0.1%).
*Organic ingredient.
ORIGIN:
Hungary
PACKAGING:
Costumer: 60g
Retail: 8x60g